The modular filters are composed by three main parts, the head, the body and the cone of the filter. The structure is anchored to the ground through steel structure, it has railing for protection and naval scale for access to the top of the filter.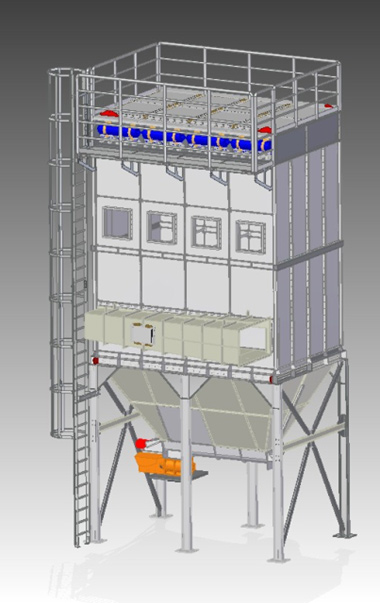 For the dedusting process, there are filter bags, which are mounted within respective metal cages. The cleaning system is online, pulse jet, through tanks, electrovalves and cleaning tubes with nozzles.
According to the required air flow, the filter head is varied in sizes from 1 to 6 Modules. Each Module is exactly same as the sequential and operated independent, because it has its own tanks, which are linked together if we want to add more than one along.
The filter body composed of rectangular metal panels that are added or removed in height in order to form the filter body for the respective length of filter bag. There is following correspondence:
The rotary valve is used, for the dust discharge process, by the filter to the environment. This ensures the output of the dust, as not to enter the clean air in the filter. The airlock has gear motor.
Each Module has two inspection doors which open using hinge and remain open in case of works.